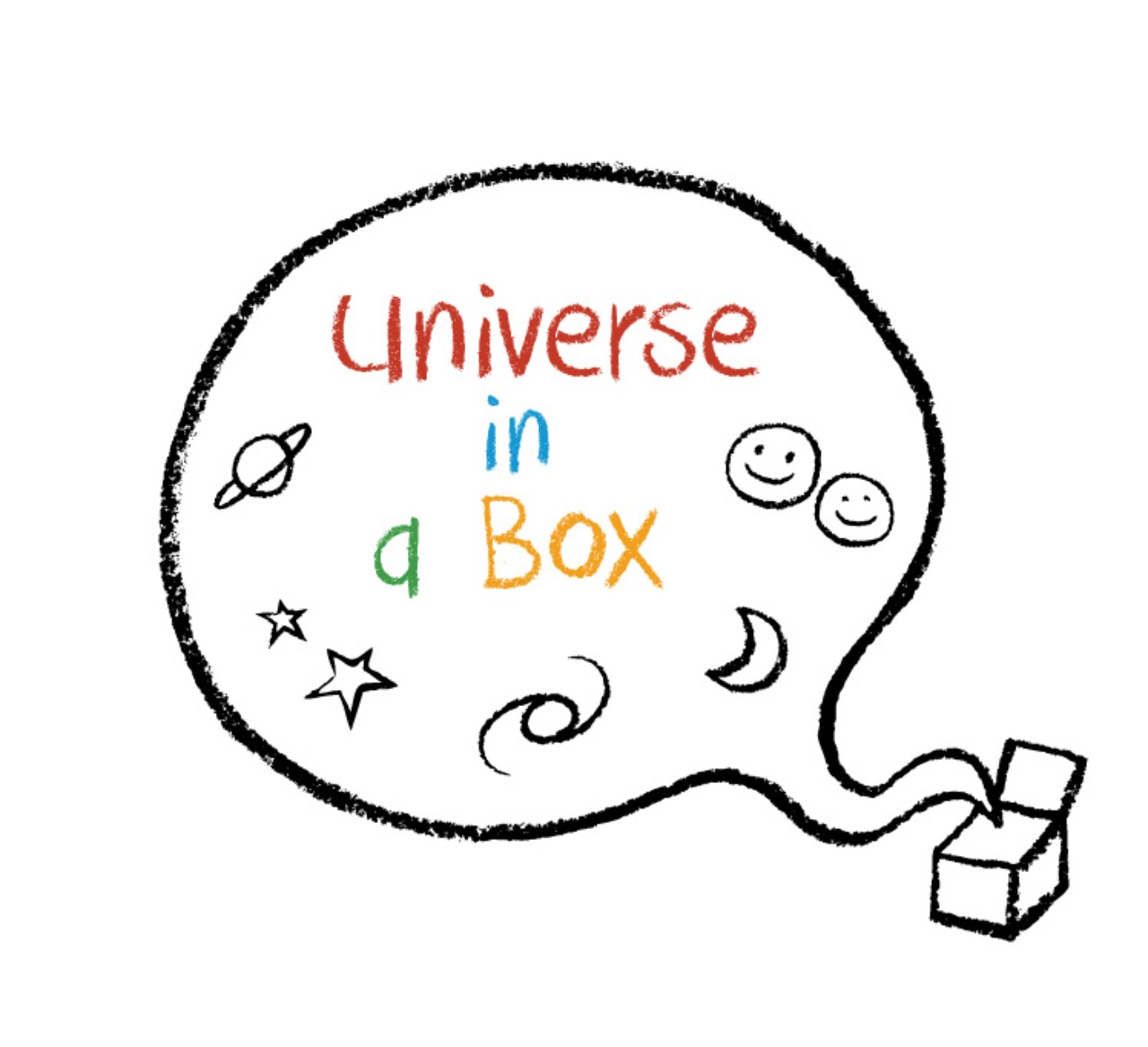 Welcome to 'Universe in a Box' — an educational kit to assist teachers and educators in bringing astronomy and space sciences to 4–10 year old children around the world. Universe in a Box was developed to meet a demand for practical, interactive, and fun resources to bring astronomy to the classroom. It provides teachers and educators with over 40 practical activities as well as the materials and models required to do them.
Educational Goals
Universe in a Box was designed with the following educational goals in mind:
Support elementary school curriculum with a didactic tool for teachers to help them overcome the hurdle of initial preparation by choosing appropriate focus areas and providing appropriate learning objectives and materials.
Encourage inquiry-based learning among children, involving observing, discussing, drawing conclusions and presenting.
Link astronomical topics with other subjects such as mathematics, art, and philosophy to support interdisciplinary learning and present a more holistic view of our universe.
Make children aware that we are all inhabitants of a small fragile planet: our Earth. To help encourage the desire to protect the environment and to respect other cultures.
What's in the Box?
Universe in a Box has a modular design and comes with five modules: Our Fascinating Moon, The Earth — Our Home Planet, The Sun — Our Home Star, Our Solar System, and The World of Constellations.
The box contains a comprehensive activity book describing 40 activities for children aged 4 to 10. The activity book includes relevant background information, how-to steps, guidance on further experimentation, and craft templates for use in the classroom. The box contains all the materials and models required to do the activities. Exceptions are commonly available materials such as clay, scissors or colour pencils.
If you would like to try some of the Universe in a Box activities yourself, the complete activity book is available free online here.
Who Can Use Universe in a Box?
Either individual activities or entire modules can be used in a classroom or a playroom, with an ideal instructor to student ratio of 1:20. The box has been designed to be used by any type of instructor, including but not limited to:
Schools / Teachers
Playgroups and Activity Centers
Science Centres, Planetaria, Museums
Amateur Astronomer Associations
Outreach Programmes
Independent Educators
Educators are also encouraged to customize the box with additional activities and materials of their own. The activity book is in loose-leaf folder format so that teachers can easily add additional activities to it.
How to Order
Orders for Universe in a Box are now open. 1000 Universe in a Box (English version) kits will be ready by January 2014. Shipping will start in March 2014.
Universe in a Box is a 'one for one' product. For every centre that buys one, we'll give one to a centre that cannot afford this resource, with the aim of inspiring more and more children with our cosmos. The price to order Universe in a Box is €128. This includes the production and handling (shipping) costs of two boxes.
If you are an educational organization that needs five or more boxes, you can order them at the cost price of €75 per box including shipping and opt out of the 'One for One' approach.
To order a box, please follow this link: www.unawe.org/buyuniversebox
Pay via Bank Transfer
The above link only supports payment via Credit Card (via Paypal). If you would like to pay via bank transfer, please fill out this Order Form (instead of following the above link).
Please quote your name, quantity, and the reference 'UniBox-EN' in the transfer.
| | |
| --- | --- |
| IBAN: | NL78RABO0102468869 |
| BIC/SWITCH: | RABONL2U |
| Account Number: | 10.24.68.869 |
| Account holder: | Universiteit Leiden, faculteit W&N |
| Bank: | RABO BANK |
| Subject of payment / message: | SAP 2010007401 - Universe in a Box |
Funding Note
The entire development process of Universe in a Box, from prototyping to project management, has been funded by the European Union. The prices indicated here only include the production and handling costs.
Do it Yourself Universe in a Box
For personal, non-commercial use, UNAWE also offers the possibility to build your own Universe in a Box. Please download the DIY guide and source files from here.
Licence

This work is licensed under a Creative Commons Attribution-NonCommercial-ShareAlike 3.0 Unported License.
Contact
If you are interested in knowing more about Universe in a Box, please contact us at: ashton@strw.leidenuniv.nl or info@unawe.org
We are eager to get your comments and remarks!
If you've been using Universe in a Box in an exciting activity or event, or simply at school, we'd like to hear your story. Please use this form to tell us about it.
Downloads / Links
Credit List
Concept

Cecilia Scorza (EU-UNAWE Germany/House of Astronomy)

Project Management

Pedro Russo (EU-UNAWE/Leiden University), Jaya Ramchandani (UNAWE/Sirius Interactive)

Educational Development

Cecilia Scorza, Natalie Fischer (EU-UNAWE Germany/House of Astronomy)

Educational Support

Sara Khalafinejad (UNAWE/Leiden University), Jos van den Broek (Leiden University)

Business Development

Jaya Ramchandani (UNAWE/Leiden University)

Editorial Support

Erik Arends (UNAWE/Leiden University), Jaya Ramchandani (UNAWE/Sirius Interactive)

Activity Contribution

Angela Perez (UNAWE Colombia/Astronomy Kids Club), Curion Education Pvt. Ltd. (India)

Prototype Production

Curion Education Pvt. Ltd. (India)

Design

Charlotte Provot (EU-UNAWE/Leiden University)
Design Support: Diti Kotecha (ditikotecha.com, Graphic designer)
Web Support: John Pitsakis (clrblnd.com, Web designer and Photographer)

Disclaimer We have taken care to credit all pictures. Unfortunately, this has not been possible in all cases. Should you be aware of the authorship of these uncredited pictures, please let us know!

Logo
Nikki Hartomo (Design), David Kerkhoff (Font)